A mezzanine floor is an intermediate floor between the main floors of a building. It is a low-ceiling floor that is often seen in the form of a balcony. The mezzanine floor doesn't cover the entire floor space and can be relocated easily.
According to experts, lack of space is one of the key factors that hinder business growth. To help businesses overcome this challenge, constructing a mezzanine floor is the most effective solution.
Now, you may have this question in your mind that Which Type of Mezzanine Floor is perfect for you?
Here We Explained 3 Popular Types Of Mezzanine Floors
1. Rack Supported Mezzanine Floor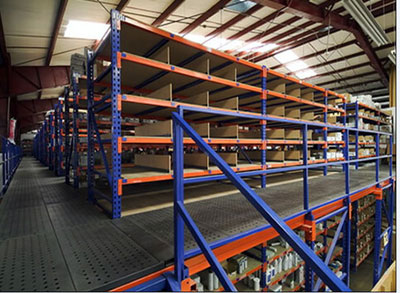 A rack supported mezzanine floor construction happens without structural columns. Shelving systems or pallet racks act as the support for it. This kind of mezzanine floor offers dense storage space both on top and underneath. Hence, it enables you to enhance your space effectively.
Rack supported mezzanine floor is ideal for small to medium-sized goods. Besides, it is suitable for the storage of a variety of goods that are accessible manually. Movement of goods in this type generally happens through hydraulic lifting, forklifts, or hydraulic pallet trucks.
2. Steel Structural Mezzanine Floor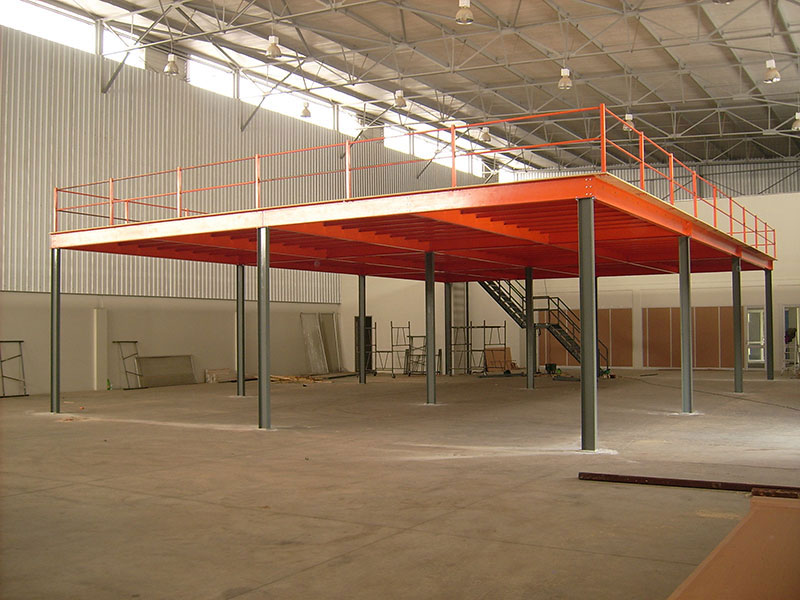 As the name reveals, a steel structural mezzanine floor is supported by steel columns. Also known as entresol, these are high-level platforms, independent of the main building structure. Shelving acts as a support for the floor system and enhances its storage capacity. The base of the floor combines with the shelving to form a walkway or structural flooring.
The steel structural mezzanine floor makes the maximum use of the height of the premises. It has the capacity to increase the surface area by threefold. Hence, it allows itself to be used as an office, storage space, changing room, etc. This type can bear the weight of heavy cargo, given the construction is done with I-beams for support.
3. Concrete Mezzanine Floor
A concrete mezzanine floor is one of the most durable types. Its design involves a high point load and minimal noise transmission via the floor. A concrete floor consists of corrugated steel VL decking. This provides a pour stop to expand the concrete floor up to 6-inch.
This mezzanine is usually used in high-capacity industrial or military applications. All thanks to its durability it is popular as a permanent floor system.
Types Of Mezzanine Decking Material
When constructing a mezzanine floor, it is crucial to decide which material will fit your needs. The material will have a significant impact on the design and application of the mezzanine. Here are some of the common types which include:
1. Steel Decking
Steel decking is one of the most widely used applications for constructing a mezzanine floor. The material offers resistance to moisture, improved strength and stiffness. Moreover, it provides a secure and solid resistance to pedestrian traffic. Its design to withstand weather elements much more than any other material. Therefore, looking at its features, steel decking is superior to ordinary plywood. It is not just stronger but even cheaper than other mezzanine floors.
2. Concrete
Concrete, the universal material for construction is a good option for mezzanine floor construction. The popular material is one of the most durable and resilient options available.
When we talk about durability it means that the material is difficult to damage. You don't have to worry even if something heavy is dropped on a concrete mezzanine. It is able to withstand high pressure from extremely heavy goods such as forklifts and cars.
3. Steel Grating or Bar Grating
Steel grating comes with insurance benefits which makes it one of the preferable options for mezzanine. Steel grating is excellent in constructing mezzanine floors as it allows the light, air, heat and other fluids to pass through the deck surface. It is strong and durable while being low on maintenance. In general, there are 2 types of steel grating which include:
Press-locked grating – This interlocks perpendicular bars and provides impressive horizontal support. Besides, it has a clean and smooth look.
Welded bar grating – This features incredible strength and has a long life span.
Steel grating is a popular choice for use in mining, food service industries, and waste management.
4. Diamond Plate
Diamond plate or tread plate is a high-strength metal sheet typically installed over a steel deck. This is done to ensure great durability and heavy load capacity. The pattern on a diamond plate may vary between lozenge shapes, diamond and small individual blocks of raised bars in a checkerboard arrangement.
Diamond plate is ideal for constructing a mezzanine floor when a slip-resistant and corrosion-resistant material is your aim. Other primary features of diamond plate include protection from damage and attractive finishes.
Common Uses of Mezzanine Floor
Mostly, businesses construct mezzanine floors when they require space for storage, packing and sorting. That being said, many use mezzanine for an office. In general, the application of mezzanine is categorised as follows:
1. Industrial Mezzanine Floor
When manufacturers require additional space in their production environment, they construct mezzanine floors. This type of application is known as industrial mezzanine floor. The option has the potential to create a versatile space in industries. You can also use the mezzanine in combination as a production/storage space and office space.
2. Warehouse Mezzanine Floor
Of course, when we talk about a warehouse mezzanine floor construction, it is about storing goods. Facilities often go short of storage space, especially when racking systems do not suit their area. This is when warehouse mezzanine comes into the picture. It offers complete flexibility for any type of storage allowing combinations of shelving, block stacking and long span.
To ensure safe movement of items between the two levels, incorporating pallet gates is wise. This also takes care of operators working on a high level, preventing any accidents.
In addition, the installation of conveyor systems is a good option. This is beneficial for businesses that need to move box-packed goods or cartons constantly.
3. Office Mezzanine Floor
Mezzanine floor construction could be the perfect choice for a business that requires an additional office space. This requirement is usually seen in industrial facilities and car showrooms.
Office mezzanine floor can significantly minimise the floor space needed for an office. And at the same time, it can maximise the production area or offer a secure storage facility.
Furthermore, mezzanine floors can be a good option for use as meeting rooms, modern office, and board rooms. Its presence can enhance further when a glass partitioning is applied.
4. Retail Mezzanine Floor
Modern retail buildings often customise mezzanine as an integral part of their design process. There are endless design possibilities with it.
The mezzanine floor construction is popular in retail outlets, especially those inside retail parks. Retailers that add mezzanine floors see a dramatic increase in the square meter of retail space. It increases the shelf space and eventually the profits.
Apart from that, you can dismantle mezzanine and move it to a new location – adding more benefits.
Safety Measures You Need To Consider Before Constructing A Mezzanine Floor
When constructing a mezzanine floor, there are certain things to be considered. It is vital to consider the design of the main floor on which it will be positioned.
The type of mezzanine you choose will have a major impact on the presence of the flooring design. Other important considerations are as follows:
Consider incorporating barriers, safety gates to protect your staff while operating at height.
Follow any building regulations and restrictions related to fire safety such as installing fire-rated mezzanine. Collaborate with professionals that can provide you with proper guidance.
Install handrails that ensure the safety of all the exposed edges. Handrails not just protect your goods but also prevent the workers and customers from falling.
While constructing a mezzanine floor consider incorporating a staircase. This will offer protection while enhancing the aesthetic look of the entire floor.