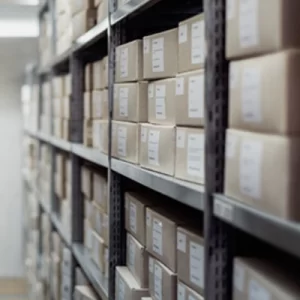 Slotted angle shelving is widely used shelves to store numerous items. Its powder coated finish and steel material make this shelving system more sturdy. 
The installation is easy since there is negligible hardware involved, depending on whether or not center support is used. It only needs a mallet to install in most of the cases.
Slotted angle racks are one of the most economical shelving systems for any commercial purpose. 
It is available in a wide range of heights, depths and lengths (see size chart below) to load light and heavy duty items from 50 kg to 100 kg per shelf.
There Are 3 Popular Types Available For This Shelving System:
Regular Type: It is accessible from all the sides and widely used in stores, shops, work spaces, and industries.
Closed Slotted Shelf: Shelves with a sheet metal rack covering for small product storages give more security and safeguard parts from falling.
Shelves with Partitions: It is used to store different items with each partition.
Standard Sizes Of Slotted Angle Shelving
Slotted angle racks are very convenient to store your inventory with a wide range of heights, depths and lengths availability.
Here is the standard size chart for this shelving:
Type

Length

Depth

Height

Thick (mm)

Load Capacity

40-50 kg
50-60 kg
80-100 kg

40-50 kg
50-60 kg
80-100 kg
Advantages of Installing Slotted Angle Shelving
Fast product accessibility from all the sides
Easy to assemble and disassemble
Customize as per storage needs
Cost effective and easy handling
Sturdy angles for light and heavy duty items
AL Kheera Steel Works is one of the leading slotted angle shelving suppliers in UAE. Fill the form below to contact us.
Our fantastic support staff is adored by our grateful customers. Quick, cordial, and always there for you. We'll support the continuous operation of their warehouse storage needs.