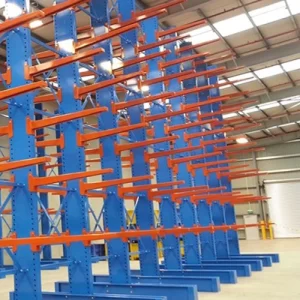 Cantilever racking is a popular warehouse storage solution that allows for the storage of long and bulky items in an efficient manner. This racking system is designed to hold heavy loads and is perfect for storing items such as pipes, lumber, and steel bars.
The cantilever racking system consists of vertical columns, horizontal braces, and arms that extend from the columns. These arms provide support for the items being stored and can be adjusted to accommodate different sizes of products.
One of the major benefits of cantilever racking is its versatility. It can be customized to fit any warehouse storage need and is ideal for businesses that deal with large, heavy items that are difficult to store using traditional racking solutions. The system is also easy to assemble, dismantle, and reconfigure, making it a cost-effective solution for warehouses that need to adapt to changing storage needs.
CANTILEVER RACKING SERVICES IN UAE
As a supplier of selective racking in the uae, AL Kheera Steel Works offers a wide range of racking solutions including cantilever racking. Their cantilever racking systems are made from high-quality materials and are designed to withstand heavy loads, making them a durable and reliable storage solution.
If you're looking for a racking and shelving company in uae, consider AL Kheera Steel Works for all your storage needs. Their cantilever racking system is just one of the many racking solutions they offer. Click on racking solutions to learn more about our products or contact us today for a free consultation.
Our fantastic support staff is adored by our grateful customers. Quick, cordial, and always there for you. We'll support the continuous operation of their warehouse storage needs.