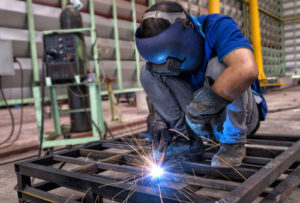 AL Kheera Steel Works is one of the leading steel fabricators in UAE. The company has trained welders and engineers to offer superior steel engineering within a specified budget.
We are a growing steel fabrication company in UAE and we have joined the hands of many industries, engineers, architects, and contractors to fulfill their fabrication-related needs.
Why AL Kheera Steel Works Is One Of The Best Steel Fabricators In UAE
AL Kheera Steel Works adheres to strict on the best service quality and delivers to the clients on time. The company especially caters to the fabrication needs of the cement and power industry.
We design and manufacture industrial products. Some of them are MS Ducting, SS Ducting, Spiral Chutes, Grab Buckets, Screw Conveyors, Expansion Joints, Mild Steel Cyclones, Cooler Tube Shell, Tanks, Steel Structures etc.
Hence to help in the construction projects, our trained steel fabricators manufacture, supply and install steel products on-site for building contractors, villas, malls and warehouses.
AL KHEERA STEEL WORKS LLC

is one of the leading steel fabrication companies in the UAE.
A few of them are the canopy, sheds, cladding and skirting, column and pillars. We also manufacture fencing, gates, doors, windows, stairs, railing, warehouse trusses, flagpoles, mezzanine floors etc.
So if you need our steel fabrication services, send an inquiry. Our team gets in touch with you as soon as possible.
Our fantastic support staff is adored by our grateful customers. Quick, cordial, and always there for you. We'll support the continuous operation of their warehouse storage needs.