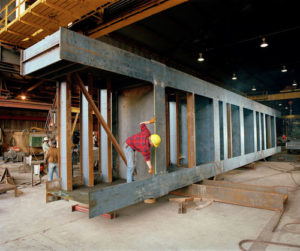 Structural steel fabrication service is always demanding in the construction field, industrial area, mining, aerospace industry, energy and many other sectors. 
It requires knowledge and a skilled workforce for cutting, bending, shaping and assembling mega steel structures. Are you looking for a reliable structural steel fabricator?
AL Kheera Steel Works is one of the leading structural steel fabrication companies in UAE. We have more than 30 years of industry experience. 
Our team includes trained designers, fabrication specialists and project managers. So it allows us to offer our clients superior fabricated steel structures to install at their locations.
We manufacturer heavy steel structures, platforms, stairs, handrails and mezzanine floors. Likewise, we also manufacture canopies, pipelines, parking sheds, warehouse trusses, boundaries, steel architects and many other items.
If you need a steel fabricator in UAE, contact us to get a free consultation, or to learn more about us!
Our fantastic support staff is adored by our grateful customers. Quick, cordial, and always there for you. We'll support the continuous operation of their warehouse storage needs.