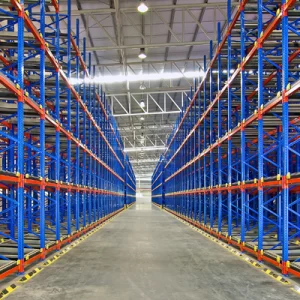 Selective pallet racking is a versatile solution that can be adapted to different warehouse layouts and load sizes. It can also be customized with various accessories, such as decking and safety components, to optimize space and ensure the safety of workers and products.
One of the main advantages of selective pallet racking system is its FIFO (first-in-first out) feature, which ensures that the oldest inventory is picked first, reducing the risk of product obsolescence and waste. This is particularly important in industries such as food and beverage, pharmaceuticals, and electronics, where product expiry dates and quality control are critical.
SELECTIVE PALLET RACKING SUPPLIERS IN UAE
At AL Kheera Steel Works, we are a leading supplier of selective pallet racking systems in uae. Our racking solutions are designed to meet the highest industry standards and can be tailored to meet your specific storage requirements. We offer a wide range of racking and shelving solutions to meet the needs of various industries, including automotive, retail, and manufacturing.
If you are looking for racking solutions in uae, contact us today to learn more about our selective pallet racking systems and how we can help you optimize your warehouse space and streamline your operations.
Our fantastic support staff is adored by our grateful customers. Quick, cordial, and always there for you. We'll support the continuous operation of their warehouse storage needs.