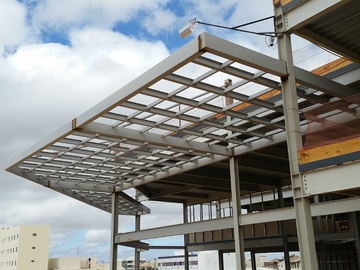 AL Kheera Steel Works is one of the top architectural stainless steel fabricators in UAE located in Sharjah. We manufacture custom made stainless steel products.
For instance decorative canopies, shades, staircase, railings, steel structures, stainless steel boundaries, columns, pillars etc.
Our stainless steel fabricators assist to design and manufacture decorative architectural products. These products will add more beauty to your home or commercial buildings.
Above all, we have experienced designers and engineering team to work as per your architectural stainless steel fabrication need.
So, if you have any dream design, let us know. We can help you in designing, manufacturing and install it to your location.
Our fantastic support staff is adored by our grateful customers. Quick, cordial, and always there for you. We'll support the continuous operation of their warehouse storage needs.